How to open multiple web browser Windows

Whenever you see 2 or more interesting links to pursue, go ahead and explore all of them simultaneously by following the advice on this page.

---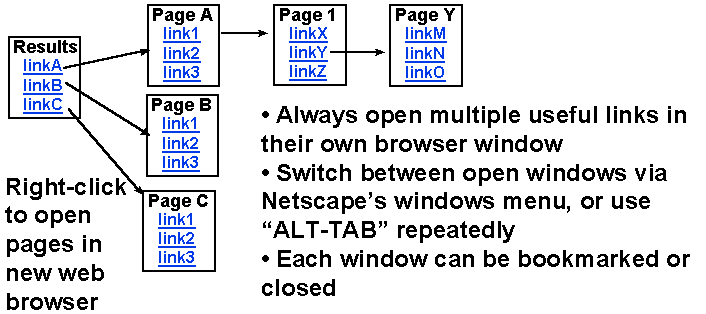 Right-click on one of the desired links using the right mouse button
A pop-menu appears - select "open link in new browser window"
This will launch a new web browser window which will access the desired link.
While waiting for this new page to download... return to your first web browser window to explore other links. The easiest way switch back to your other browser window is to use "alt" - "tab" (hold down the alt key... click on tab just once (still holding the alt key), now you can let go of the alt key
You should now be looking at your original web browser window.
Right-Click on additional interesting links on this page, causing each promising lead to open up in its own browser window.
Once you have 5-10 browser windows open, you can easily scan through these many windows by: holding down the alt key (continuously), click on the tab key (tab, tab, tab). IN the pop up menu that appears you will see many icons, each one representing an open window. The title of each window is displayed as you "tab" through them. Once the icon you are interested in is highlighted, you can finally let go of the alt key.

Contact me at 703-729-1757 or Russ 'at' navigators.com
If you use email, put "internet training" in the subject of the email.
Copyright © Information Navigators