Usenet Newsgroup Overview

There are over 50,000 Usenet newsgroups where Internet users exchange messages on specific subjects. If you can't find something online via search tools, then try the newsgroups... A fellow Internet user can probably lead you to the right information.
Main points:
Usenet Newsgroups are a globally shared/distributed set of online forums where users can post messages to each other.
Newsgroups can be subject oriented (rec.antiques) or created based on geography (dc.dining)
Newsgroups are not chat rooms. Chat rooms are a more real-time event, where the text of messages are displayed back and forth between users in near real time. Newsgroup postings are more similar to email messages that are posted into a shared area, where other users may reply back to the message over the next several days.
Quality of content in a specific newsgroup depends on culture of that newsgroups' following. This is an online city of over 500 million strangers.
Children (and some spouses) should not be left alone on the Internet.
Take the time to watch and learn the culture of a group before participating (called lurking)
Thou Shall not SPAM the Internet!!!
Messages (articles) are "posted" to the newsgroup
Others may post their "follow-up" to the newsgroup OR may respond directly to the author via email
A series of related "articles" is called a "thread"
A FAQ (Frequently Asked Questions) may be posted. READ IT, to understand the purpose of the group, and to see if "your" question" is already answered in the FAQ. A list of FAQs is also available via the web.
Usenet Newsgroup Architecture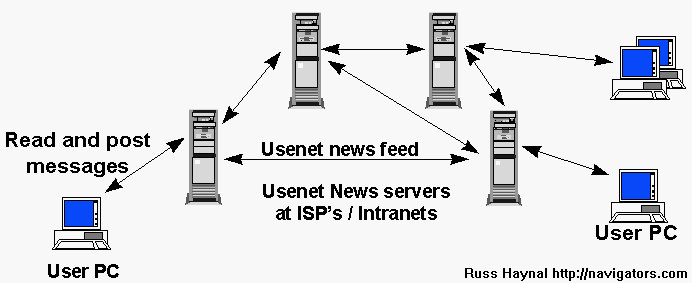 Newsgroups are hosted on news servers throughout the Internet.

News Server onsite (i.e. news.company.com)
Use provider's server (i.e. news.ISP.net)

Your local Newsreader is used to interact with this information. This can be a stand-alone Newsreader, or you web browser may also provide this capability. Check with you local Internet provider or network administrator for the software settings.
You read and post message to a specific new server. New postings are then fed to other new servers throughout the Internet, until each news server has a roughly equivalent set of messages. See How the Usenet protocol works for more information.
Searching: There are several places on the Internet where the content of the newsgroups are being archived and made available for full-text searching. The most popular resources is "google groups"
For More Information:

Contact me at 703-729-1757 or Russ 'at' navigators.com
If you use email, put "internet training" in the subject of the email.
Copyright © Information Navigators