Email List Overview

There are over 100,000 email lists where communities of Internet users share information and advice with each other. They may also be talking about your company's products and services.
Main points:
A mailing list provides an easy way for a large group of people to have an ongoing discussion via email.
Most mailing lists are subject oriented
"Someone" must establish the mailing list and have it "hosted" at some list_server. The "creator" of the mailing list is usually referred to as the list administrator.
Mailing list software is often used to automate many of the list's functions such as joining a list and relaying emails to all list members
The mailing list will have an email address such as "topic_name@hosting-site.com"
Users must then subscribe to the list in order to receive the content of the mailing list. Subscribing is often done via an email command sent to the list_server software. For example:
to: listserv @ hosting-site.com
from: your_email @ your-site.com
subject: (you can leave this blank)

subscribe topic-name
As you subscribe, the very first message you receive will probably be a canned welcome message that the list_server send to all new subscribers. Save this welcome message. This message tells you what is the purpose of the list, what's allowed to be posted to the list, and most importantly, how to unsubscribe when you want to leave.
At this point you might also begin receiving a flood of frequent email depending on the volume of the email list. You should definitely make a filter rule in your email client to handle all this new email. See my Effective Email Techniques for information about email filter rules.
It is suggested that you "listen to the list for a while, before you jump in and participate (this is called "lurking")
Some lists are allow any member to send message to the rest of the group (Discussion-style) On other mailing lists, the mail administrator may be the only person allowed to post messages, much like a newsletter broadcast (announcement-style).
Sending an email to a mailing list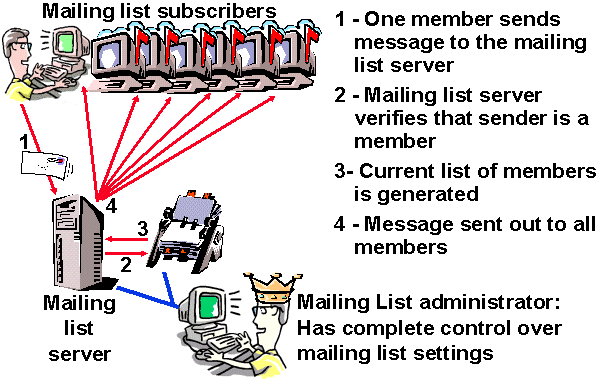 Businesses can use mailing lists as a way to make announcements, send newsletters, or host product discussion groups.
Mailing lists are especially useful for timely information and distributing information to a large number of people.
Mailing lists can have some of the best information about a topic, because all the participants have made a commitment to receive all the messages being posted to the list. Unlike the newsgroups, something can be done about individuals who are abusing the groups' discussion... If enough people complain, the all-powerful list administrator has the ability to remove any individual who is not welcome on the list anymore.
For more information see.
I can be reached at Russweb 'at' navigators.com or 703 -729-1757
Copyright Information Navigators